Skincare, Makeup, Personal Hygiene Dirty Dozen List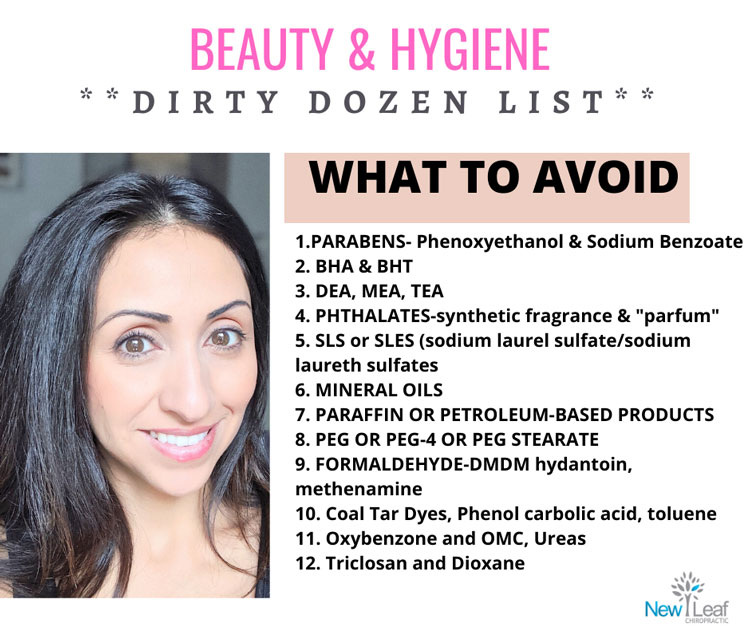 Skincare, Makeup, personal hygiene...The Dirty Dozen List
Did you ladies know that there is a Dirty Dozen list of ingredients for anything that touches our face and skin? I find this list to be SO helpful whenever I want to look into a new product or someone asks me to label-check their products so I wanted to share with you the list to help you too!
These ingredients are ones that you should NEVER want to compromise your health for. Even if you are using once a week or once a month, they add up! Remember that it takes 26 seconds for whatever you put on your body to get into your bloodstream. This is especially for anything you use on your kids or grandkids!
Even just using one of these, over time it WILL build up! And you will want to make sure you check these in any product you have that claims to be completely natural and free of toxins, as it is not always the case!
---
HERE IS THE LIST (in the coming days I will be dissecting them further):
DEA, MEA, TEA
BHA & BHT
PARABENS- propylparaben, Methylparaben, Benzyl Benzoate, Phenoxyethanol
PHTHALATES AND OTHER SYNTHETIC FRAGRANCE OR PARFUM
SLS or SLES (SODIUM LAUREL SULFATES) OR SODIUM LAURETH SULFATES
MINERAL OILS
PARAFFIN OR PETROLEUM-BASED PRODUCTS
PEG OR PEG-4 OR PEG STEARATE
FORMALDEHYDE AND ITS RELEASING AGENTS: DMDM hydantoin, diazolidinyl urea, imidazolidinyl urea, methenamine and quarternium-15
Coal Tar Dyes, Phenol carbolic acid, TOLUENE, HYDROQUINONE
Oxybenzone and OMC, known as Octylmethoxycinnamate and Ureas
riclosan and Dioxane
Almost every single product we buy, whether from this country or even another that might ban some of these, is bound to have these ingredients unless completely dubbed *toxin-free* and NOT non-toxic (do you remember the difference?)
~NewLeafWellness~
---